Arlan and Pat Christ want to preserve the legacy of quilts from past generations by sharing the history that surrounds the art of quilting.
Arlan and Pat Christ live in Berks County, Pennsylvania. Arlan is a tax accountant with his office located in Kutztown, PA. When Pat is not working for Arlan, she can be found in her sewing studio or tending their country gardens. They enjoy traveling to quilt shows and museums which provide the opportunity to examine quilts. Retrieving knowledge to secure the heritage of antique quilts has become the prime objective of The Christ Collection.
The Christs further explore their passion of antique quilts while attending quilt study groups. Pat and Arlan are members of the Lehigh Valley Quilt Study Group, Mid-Atlantic Quilt Study Group, American Quilt Study Group, Quilter's Hall of Fame, National Quilting Association, Midwest Fabric Study Group and Baltimore Appliqué Society.
The Christs have three publications representing quilts in their collection. The first catalog was published May 2009 entitled "Pennsylvania Quilt Treasures: The Art of the Needle." Their second catalog "America's Appliquéd Quilts: A Treasured Pennsylvania Tradition" was published June of 2010. "American Pride: Eagles & Stars" was published in June of 2014. They also published four applique patterns representing quilts in their collection including "Autumn Cutwork," "Pennsylvania Pot of Flowers," "American Pride" and "Holiday Magic."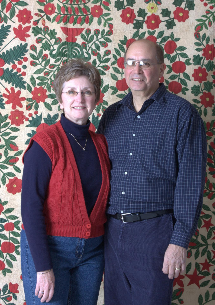 Past exhibits include the following:
Berks County Quilters Guild Quilt Show in Leesport, PA October, 2008 (Don't Turn Your Back on Me)

Kutztown Area Historical Society during the month of May 2009 (Pennsylvania Quilt Treasures: The Art of the Needle)

Quilt Odyssey in Hershey, PA July 22, 2010 - July 25, 2010 (The Realm of Four Blocks)

Berks County Quilters Guild Quilt Show in Leesport, PA October 15-16, 2010 (Pennsylvania Stars & Bars)

Quilt Odyssey in Hershey, PA July 28-July 31, 2011 ("The Realm of Appliqué)

AQSG National Seminar in Cherry Hill, NJ September 22-25, 2011(Mid Atlantic Quilts from the Christ Collection)

The Elly Sienkiewicz Appliqué Academy, Williamsburg, VA February 7, 2012 (Lecture: Mid-19th Century Quilts and Our Baltimore Beauty)

Marie Webster House - Quilters Hall of Fame, Marion, IN April 1-July 22, 2012 (PA Dutch Quilts-World of Color)

Rotary Club Antique Quilt Exhibit, Robert Cherry Civic Center, Paducah, KY April 24-April 28, 2012 (Eagle Stars & Bars)

Quilt Odyssey in Hershey, Pennsylvania July 26-July 29, 2012 (Civil War Period Quilt Treasures)

New England Quilt Museum - Lowell, Massachusetts July 11-October 6, 2013 (A Slice of Cheddar)

National Quilt Museum - Paducah, Kentucky July 12-October 8, 2013 (From the Pieces of a Nation)

The Quilters Hall of Fame Celebration - Marion, Indiana July 18-July 20, 2013 (The Realm of Four Blocks)

Quilt Odyssey in Hershey, Pennsylvania July 25-July 28, 2013 (Early Quilt Revival of the 20th Century)

Airing of the Quilts in Tunkhannock, Pennsylvania October 5, 2013 (The Realm of Applique)

Quilt Odyssey in Hershey, Pennsylvania July 24-July 27, 2014 (American Pride...Eagles & Stars)

Quilters Hall of Fame Celebration - Marion, Indiana July 16-July18, 2015 (The Realm of Nineteenth Century Applique)


Quilt Odyssey in Hershey, Pennsylvania July 23-July 26, 2015 (A Touch of Cheddar)

Virginia Quilt Museum in Harrisonburg, VA May 17-September 10, 2016 (American Pride...Eagles & Stars)

The Quilters Hall of Fame Celebration - Marion, Indiana July 14-July 16, 2016 (A Slice of Cheddar)

Quilt Odyssey in Hershey, Pennsylvania July 21-July 24, 2016 (Mathematical Wonders)

New England Quilt Museum - Lowell, Massachusetts October 19-December 31, 2016 (America's Applique Quilts)

Quilt Odyssey in Hershey, Pennsylvania July 20-July 23, 2017 (Dressed to the Nines)